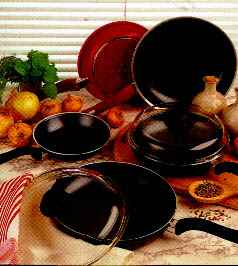 HORTITAN
Hard coatings for cooking utensils
The Hortitan dual-coating system has been specifically designed for plasma-produced surfaces.
In this case, the outstanding non-stick characteristics of PTFE have been combined with the high abrasion strength of the plasma coat.
Hortitan coatings are characterized not only by a long service life but also by the fact that contact with metal objects such as knives and forks does not impair the non-stick surfaces.
w Uses
Cooking utensils, such as pots and pans
Grills and waffle makers
Plus a whole range of other applications.
These illustrations represent only a sample of the full range of possible uses of Hortitan coatings.
w General technical characteristics
Continuous heat stability up to 250░C
Sintering temperature over 400░C
High abrasion strength
Very good non-stick characteristics
BGA / FDA approved.
[pieddepage.htm]