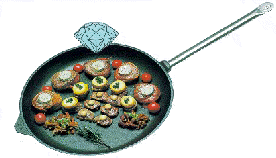 Diamond's Best
Ultra-hard coating with diamond crystals for super pans
The very latest technology for cooking utensils, Diamond's Best is an ultra-hard coating which incorporates diamond crystals in combination with a non-stick nano-composite.
Diamonds'Best is an indestructible surface manufactured by leading-edge processes. This totally non-stick coating is characterized by extreme hardness, maximum scratch resistance and a long service life.
Its high thermal conductivity ensures not only excellent cooking but also maximum energy saving.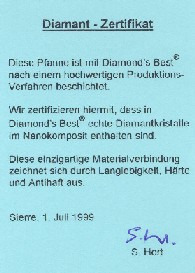 w General technical characteristics
Continuous heat stability up to 300░C
Maximum abrasion strength
Maximum hardness
Total cleanliness
Optimum non-stick characteristics
Optimum thermal conductivity
Maximum service life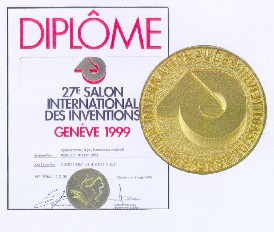 w Uses
Cooking utensils, such as pots and pans
Grills and waffle makers
Parts exposed to the highest levels of wear
This illustrations represent only samples of the full range of possible uses of Diamond's Best coatings.
[pieddepage.htm]