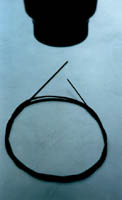 RESIMED
Hydrophilic and non-stick coatings for medicine and analysis
Resimed coatings are functional coatings based on fluoro-polymers or hydrogel- polymers in combination with resin substrates.
The coatings consist of one or two coats, depending on the type of application.
The fluoro-polymer coatings have out-standing anti-friction characteristics even when dry whereas hydrogel-polymer coatings become so only after wetting. A surface treated with hydrogel-polymers feels just like an ordinary plastic when dry.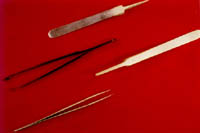 w General technical characteristics
Sintering temperature 200░C to 260░C
High non-stick effect
Coating thickness 6 - 20 my
Partly BGA / FDA approved
Low friction coefficient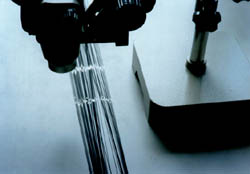 w Uses of fluoro-polymer coatings
As insulation for materials and to prevent fluid adhesion in analytical equipment and other laboratory apparatus.
w Uses of hydrogel-polymer coatings
Mainly for stainless steel wires, stainless steel microbore piping and various plastic parts.
These illustrations represent only a sample of the full range of possible uses of Resimed coatings.
[pieddepage.htm]