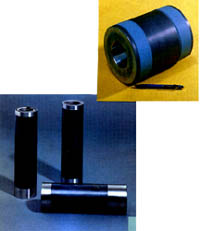 RESIDUR
Composite coatings for the toughest jobs in industry and research
Residur coatings consist of fluorocarbons combined with plasma-produced hard base coats (ceramic, nickel-chromium, tungsten carbide, etc), specially designed to meet the customer's application profile.
This combination of plasma and fluorocarbon coats results in high abrasion strength together with good non-stick and anti-friction characteristics. In practice, this means that the coated parts have a significantly longer useful life than was the case with earlier coatings.
w General technical characteristics
Continuous heat stability up to 260░C, depending on the type of fluorocarbon used
Sintering temperature 250░C to 400░C
Good non-stick characteristics
Good anti-friction characteristics
BGA / FDA approved
Excellent adhesion to the substrate
Very good abrasion strength
w Uses
Typically used in areas where conventional fluorocarbons would wear out rapidly due to the high abrasiveness of the media coming into contact with the coating.
For example, sack chutes, hoppers for hard materials, agitator containers, centrifuge drums. In the food industry, they are used for worm conveyors and rollers.
These illustrations represent only a sample of the full range of possible uses of Residur coatings.
[pieddepage.htm]