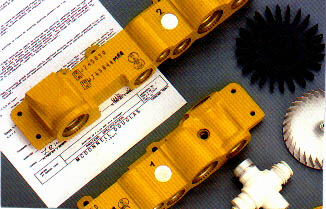 RESIFLON
Non-stick coatings for industrial applications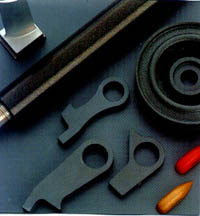 Resiflon coatings are made of fluorated organic compounds like PTFE, associated with heat-resistant resin substrates.
The standard coating consists of a single coat. However, it is also possible to add further coats in order to increase the overall thickness of the coating and to improve its quality.
In addition to their outstanding non-stick characteristics, Resiflon coatings are also distinguished by good dry lubrication characteristics. Excellent mechanical strength, in combination with a high non-stick effect, ensures that Resiflon coatings have a long service life.
w General technical characteristics
Continuous heat stability up to 260░C
Sintering temperature 200░C to 400░C
High non-stick effect
Coating thickness 10 - 80 my
Partly BGA / FDA approved
Partly good anti-corrosion characteristics
Low friction coefficient against polished steel - 0.003 - 0.1
w Uses
Mainly used as a non-stick coating on materials for :
Moulds and machine parts in the food industry.
Desiccating equipment for coffee, fruit and vegetable extracts.
Equipment for the manufacture of con- fectionery.
Processing of textiles, paper and plastics. Filling and packing machines.
Moulding-welding equipment and heat- sealing apparatus.
Automobile parts such as bearing bushes, hinges, connectors, carburettor parts, manual gearboxes, thrust and friction bearings, bolts and other rubbing and sliding surfaces.
These illustrations represent only a sample of the full range of possible uses of Resiflon coatings.
[pieddepage.htm]