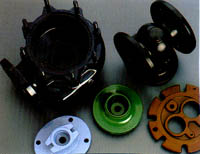 RESINCOAT
Non-stick and anti-corrosion coating
Resincoat coatings are based on the fluorocarbons FEP, PFA, PVDF, CTFE and ETFE.
In addition to their partly very good non-stick characteristics, these coatings offer outstanding protection against corrosion from the most common chemicals. The capacity of these coatings to form layers free of micropores, even at very low thicknesses, makes them ideally suited for use in applications where electrical insulation is required in addition to good non-stick and anti-corrosion characteristics.
Thanks to their corrosion resistance and the quality they bring to processing, Resincoat coatings serve to preserve value and reduce costs.
w General technical characteristics
Continuous heat stability up to 260░C, depending on coating system
Sintering temperature 250░C to 400░C
Partly excellent non-stick characteristics
Good abrasion resistance
Partly BGA / FDA approved
Dielectric strength approx. 3000 V
Coating thicknesses from 80 to 1200 my
Partly excellent anti-corrosion characteristics
w Uses
For applications requiring very good non-stick characteristics plus good resistance to chemicals and micropore-free coatings. For example, manometer parts, membranes, fittings and pipes, agitators, star wheel feeder, temperature sensors, level regulators, containers and hoppers for the chemical industry.
In galvanising, for clamps and galvanising frames.
In medical technology, for electro-surgery and endoscopy.
In the paper industry, for drying cylinders, hoppers and containers.
In the plastics industry, for moulds and containers used in processing polyurethane.

These illustrations represent only a sample of the full range of possible uses of Resincoat coatings.
HORT COATING CENTER LTD CH-3960 SIERRE/VS
TÚl. ++41 27 455.91.25 Fax ++41 27 456.30.06
E-Mail : info@hortcoating.ch